The first Trail Bliss in 2020 was a great success, and after huge demand and request to run it again a second event was held in 2021. Over 230 women attended the festival in 2021 and had an absolute blast over the 3 x day festival.
A big part of Trail Bliss are the coaching sessions. These are run across all three days and all women attending were eligible to participate in a 3 x hour coaching session suitable for their skill level and instructed by a qualified and accredited PMBIA & AusCycling coach. At both 2020 and 2021 coaching was an "optional" activity, however in 2021 we has a 100% participation rate with all women wanting to attend a session to develop their MTB skills. In preparation for the event LLMBC engaged and facilitated the training of a number of coaches in the PMBIA level 1 and level 2 courses to ensure enough coaches were available to meet the capacity requirements at the festival.
Concurrent to the coaching sessions ran a number of other activities including: guided rides, unlimited shuttles, air bag demonstrations and workshops, massages, slack lining, paddle boarding and canoeing, bike maintenance workshops, timed trail runs and competitions. The festival area was set-up with a local mountain bike stall holders where the ladies could do a bit of shopping for clothing, protective gear, bike parts, mud guards and many other goodies. Break the Boundary, adaptive mountain bike organisation had a demonstration stall and an opportunity for the ladies to learn more about mountain biking for those with a disability.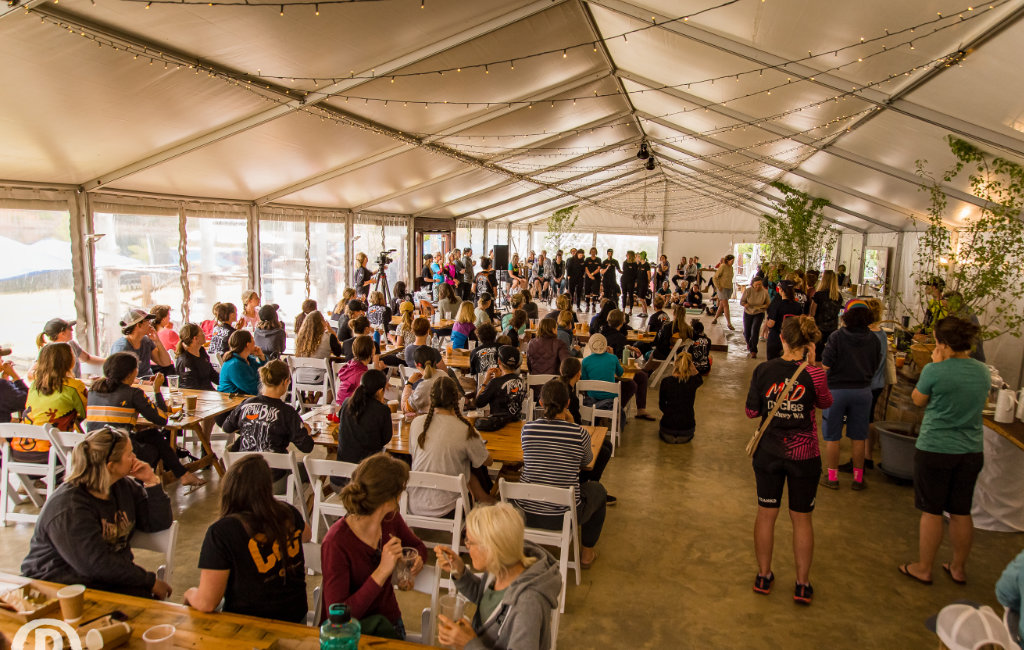 The weekend was fully catered for with a buffet breakfast by Linga Longa Bike Park Cafe, lunch box picnic by Tasty Edibles and a number of delicious food trucks and cafe meals provided for the evening meals. No one went hungry! Amelia Park Wines and Colonial Brewing Company kindly sponsored the festival providing a range of delicious drinks for the festival dinner on the Saturday evening.
To put on an event like Trail Bliss we had over 70 volunteers (females and males), a small volunteer organising crew, support from commercial sponsors and local businesses. A significant amount of liaison with bodies like AusCyling to meet insurance requirements and ensure coaches and volunteers are trained and registered within regulations occurs. Overall the 2021 event had over 400 people from participants through to coaches, vendors and volunteers. Without the support of volunteers and sponsors the event just simply wouldn't happen.
Events like Trail Bliss create a much needed opportunity for women in our community to network. It allows stakeholders and the general community to understand the barriers that women experience and demonstrates the need for events like Trail Bliss and women's specific programs. The women who participate have the opportunity to try something new, push their boundaries and attempt features or trails in a safe and supported environment without pressure or judgement.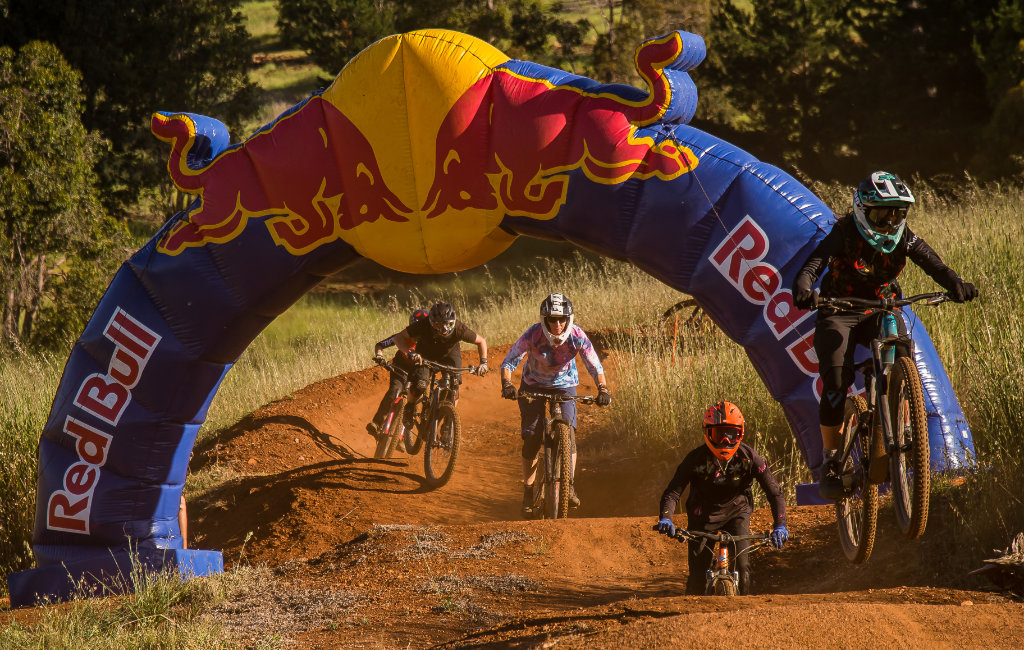 2021 Trail Bliss was another huge success, the Bryman's Train was repeated and this year and even more riders joined with beginner being able to link in on the new green trail "Apple Crumble". In preparation for Trail Bliss 2022 WA Gravity Girls and Linga Longa Mountain Bike Club worked hard to facilitate a green trail being built in time for the festival to provide more opportunities for beginner riders. Some major goals were achieved by the women who pushed their limits and tried new things outside of their comfort zone.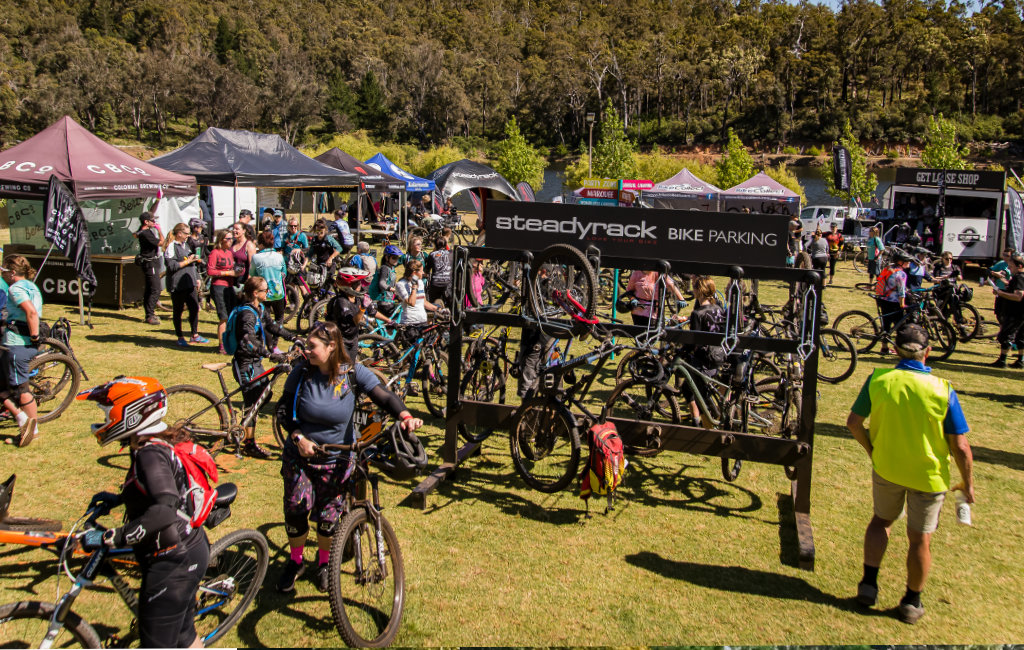 For 2022 we've decided to take a break and sit back to watch the good that these two major events have brought to the community. With WA opening its border in 2022 and managing a mass COVID outbreak for the first time, we decided that it would not be feasible to run the festival. Putting on a large scale event like Trail Bliss is a big undertaking!
We hope to bring the event back to the community in the future! WA Gravity Girls and Linga Longa Mountain Bike Club couldn't be more stoked with what has been achieved so far from Trail Bliss and love seeing so many WA Gravity Girls now riding trails all over the state.
Check out all the images from 2021:
Ride On: https://photos.app.goo.gl/B9wkcJTevoaVrYj48
Action Hotshots: https://photos.app.goo.gl/Jrm4nL2EEq2d3nXm9
Grasstree Media: https://photos.app.goo.gl/9Lj4cTitQV4ez1sW7
Stackart Photography: https://photos.app.goo.gl/joE3o1CkksQjWRGM7
Tenae Elise Photography: https://photos.app.goo.gl/evY7i5gvbHGgrPhaA
Neil Fraser Photography: https://photos.app.goo.gl/7rET7sWYutGaKx2w8